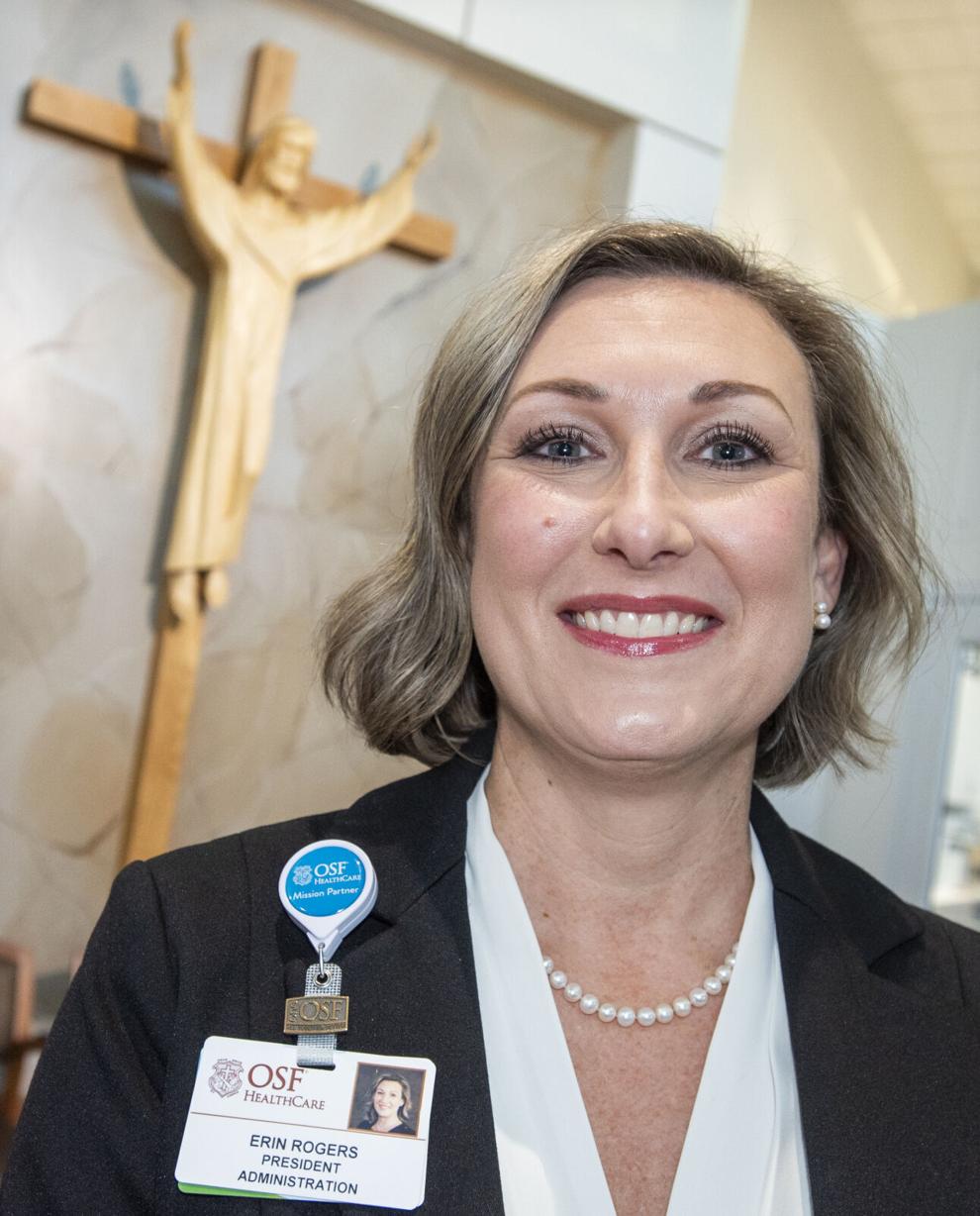 The new interim president of Urbana's OSF Mary Heart Medical Center has taken cues from a litany of leaders over the years — some world-renowned, others she's been lucky enough to call colleagues.
But if she had to pick one boss whose style she tries to command more than any other, go for it ERIN ROGERS for our 16th president.
"The professional role model that stands out for me is Abraham Lincoln," she says. "He was an honest, visionary leader, engaged with his constituents and has given us wise advice on how to make good decisions."
Like Honest Abe, Rogers' ties to central Illinois run deep — a Bloomington resident and Normal University High graduate with a BA and MBA from Illinois State and a second master's from the University of Illinois.
She and Shiloh, her husband of 25 years, have two grown children (Brayden and Tess) and two furries (Joplin the dog and Macy the cat).
Rogers, who was in her fourth year as OSF's regional director of business development, when she was tapped to succeed retiring president Dr. Jared Rogers (no relation) took the time to answer questions from Editor Jeff D'Alessio in Part 155 of our weekly speed read, highlighting leaders of organizations large and small.
---
I can't live without my… family. My husband and two children and my new grandson are my world.
I'm thrifty about it… I really don't like to waste food. Now that our kids are out of the house, cooking for two has been a challenge. I always try to choose the right size when shopping for items to prevent waste.
The hardest thing about being a manager is… managers are always balancing many challenges that vary from day to day. However, I find that consistently one of the most difficult things is managing time in a way that ensures proper attention is paid to long-term goals that are critical to future success while influencing a positive organizational culture and caring for people.
Leaders must build trust and mutual respect to support team cohesion and organizational success.
My all-time favorite moment on the job was… OSF HealthCare Heart of Mary Medical Center 100th Anniversary Celebration with Bishop Louis Tylk, our sisters and volunteers in our community. I loved seeing the community come together to celebrate this hospital providing 100 years of care in Urbana.
I also appreciate any opportunity to speak with our OSF mission partners (employees) at the medical center and get feedback from them. They are truly doing God's work and their involvement and commitment to our mission and ministry means so much to me.
The three adjectives I hope my employees would use to describe me are… accessible, responsible and innovative.
On the walls of my office you will find… photos of my family, a crucifix, a chalkboard, Abe Lincoln quotes, a clock, and a hand-drawn sketch of our medical center.
My meeting philosophy is… they are a structured way for teams to drive goals. I believe that meetings should be meaningful, purposeful and focused on advancing organizational goals and objectives.
At OSF, this means our meetings focus on quality patient care and experience, the expertise of our workforce, and other key success factors.
My unbreakable workplace rule is… always, always do what is right. Let our mission to serve with the utmost care and love guide action.
After work I will rest until… go for a walk or bike ride if the weather is nice, have dinner with family and friends, or read a few chapters of a good book.
The last luxury I indulged in was… a trip to Cabo San Lucas with my husband to celebrate our 25th wedding anniversary. It has been one of our favorite destinations for years.
My other pleasure is really nice shoes.
The most beneficial college class I took was… Negotiation strategies during my Executive MBA program at Illinois State University. I've always appreciated working with people to identify collaborative opportunities that allow all parties to feel like they're getting what they need to succeed.
The course gave me some structure to the process, which I found useful for both preparation and discussion.
I'm up and at them every day until… usually 5 or 5:30, but it really depends on the day and the start of the meetings. I spend most of my time exercising in the mornings.
My exercise routine consists of… rotating through elliptical, weights, yoga and sometimes calisthenics throughout the week. I also enjoy walking my dog, hiking, and riding my bike on summer evenings.
As far as the worst job I've ever had… I have always enjoyed working and have had several jobs. However, as a college student, I was a waitress at a high-end restaurant with wine lists and multiple courses.
Growing up, we didn't eat out much, and I had no say in the processes surrounding the dinner courses. It was a struggle. I switched to serving lunch and my experience and performance improved dramatically.
The impact of the pandemic is… changed and evolved; however, overall I'd say it's been a 10 out of 10 (on a scale of severity). We know that it has been 100 years since the last life-changing, widespread pandemic. As a community and around the world, we lost friends and family, businesses closed, we spent months in lockdown and changed how and where we work.
Professionals in many fields worked tirelessly to keep up with the daily changes in safe handling advice, including healthcare. Scientists developed a vaccine in record time to reduce the impact of the disease and increase our chances of survival. And our community showed support and appreciation for healthcare workers in the most difficult of times.
Although the hardest part of the pandemic is behind us, we cannot become complacent. Although vaccinated individuals have less severe reactions to Covid than unvaccinated individuals, the number continues to rise as cold and flu season begins.
Remembering all the precautions we learned will be important as we continue to live with variants of Covid-19 as part of the seasonal disease landscape.